This past Saturday we decided to make it a group day and spend it paddling around a pond that we hadn't checked out before. so with three mouseboats and my canvasback loaded in the van we headed out.
It turned out that the pond we chose was rather heavy with reeds, pollen and Lilly pads, but except for a few areas it was paddleable. while Norma and I headed up from the input area. the boys headed right into the reeds with their fishing gear. The reports of 5 to 7 pound large mouth bass being pulled out from this pond really made their eyes light up.
As the day progressed the boys were having mixed luck catching fish, (Daniel's luck was good, Kevin's wasn't). Norma and I were enjoying our trip around the pond, checking out the foliage, ducks, Canadian geese, egret, and swans. Even though the geese got a little loud if we got too close.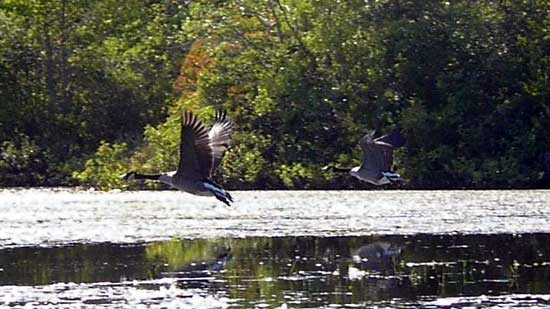 After a couple of hours of cruising around we headed in for a picnic lunch, glad we bought cold cuts as the boys didn't catch anything worth frying up. After lunch the boys headed back out to try their luck again, while I took Norma's flats rat out for a little goose hunting (with a camera that is).
Upon heading back down toward the dock and put in area I started to approach the boys and watched how nicely Daniel could stand in his mouse and cast easily without any rocking or loss of stability. Standing made the casts that much easier and more accurate.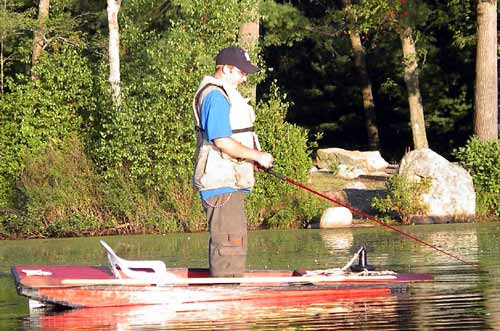 After a few minutes of watching the boys fish in the area they were in Daniel decided to try another spot, and as I watched in amazement, he pickup up his paddle (still standing, by the way) and proceeded to paddle to another spot. Now I'm really impressed with the stability of this little boat. Even though I warned him to be careful I wasn't worried about him drowning. He was wearing his pfd and the water was only about 4 ft deep.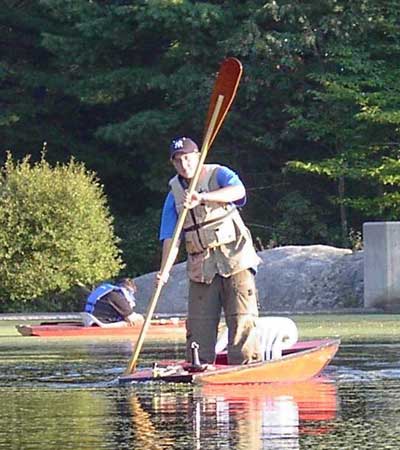 This had been a great day so far but as the sun was about an hour from setting I told the boys they had another half hour and I headed for the landing area. About 20 minutes later Daniel started to head toward us still showing how well a mouse boat could be paddled while standing. He then discovered that stopping a boat from that position is almost impossible, as he hit the side of the dock head on. This caused him and gear to thrown forward putting all the weight on the fordeck, which quickly submerged and swamped the boat. Poor Blackbird II. As Daniel scrambled to pull his wet self and gear onto the dock I went down to see that he and the boat were ok. Even though Daniel's face was as red as the paint job on his boat and he was wet from the waist down the only damage was a broken fishing rod.
The boat even in its swamped condition was no worse for wear.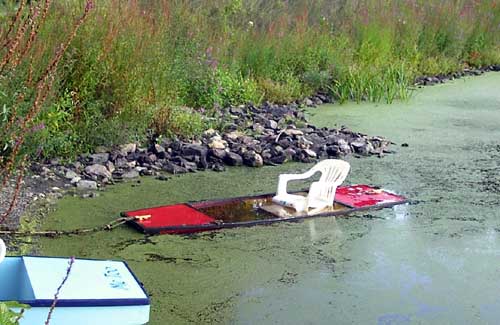 Even though Daniel hates it every time I relate this story, It proves that you should not paddle while standing, but also proves the stability and durability of mouse boats.