Venice, Italy and Venice, California are each famous for their own reasons but I just recently learned that we have a little bit of Venice right here in San Diego.

Because we live on opposite coasts, my brother has made a habit of sending gift certificates for major holidays, birthdays, anniversaries, etc. Typically, these gift certificates are redeemable for "mini-adventures" or other unique experiences that you would not typically buy for yourself… everything from spa packages to glider rides. The most recent of these was a gift certificate for a gondola ride.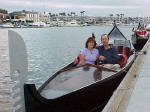 My wife and I scheduled our gondola adventure for a Saturday evening about an hour before sundown. As usual, the weather in San Diego was beautiful, 70 degrees and sunny with a light breeze out of the West.

Upon arrival we were greeted by our gondolier, "Giuseppe". Giuseppe was attired in the traditional garb of a classic gondolier with white striped shirt, black trousers, a red sash tied at his waist and a flat-brimmed straw hat. Giuseppe quickly uncorked our bottle of red, presented us with a nice anti pasta platter of meats and cheeses and led us to our gondola.

The Gondola Company, located in Coronado, California operates a fleet of four authentic gondolas. (See: https://www.gondolacompany.com/) Two of their hulls were imported from Italy while two others were constructed to authentic standards here in the United States. While my wife sipped her wine and enjoyed the scenery,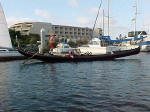 I took an occasional moment here and there to study the gondola's construction. The hulls were fairly straightforward plywood on frame and were deceptively long--approximately 32' in length with only a 4' beam. The Italian hulls were immediately obvious and bore much more ornamentation than the home-built versions including some beautiful hand-carved deck panels. All of the hulls were equipped with the traditional long oar and carved oar mount, called a "forcola", which were imported from Italy.

Once we were settled in our seats, Giuseppe deftly stepped onto the aft deck and maneuvered our gondola away from the pier. We asked him how long he had been plying his trade as a gondolier to which he replied "about two months." Despite his brief career, Giuseppe appeared to have ably mastered the art of maneuvering the slender craft down the narrow channels of the Coronado Cays.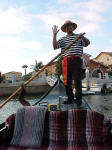 With "O Solo Mio" playing on the stereo, Giuseppe quietly paddled while my wife and I took in the sights, nibbled on our anti pasta and sipped our wine. My wife admired the extravagant estates lining the shore and I surveyed the accompanying yachts tied up at the neighboring docks. It was easy to forget that another person was standing just twenty feet behind us… until we would pass another gondola that is… Each time the gondolas would pass each other the gondoliers would exchange a friendly wave and a hearty "Bona Sera!" Other passing yachts and even two barking poodles on a nearby dock received similar greetings.

After about an hour, we returned to our starting point with the sun dropping below the horizon in the distance. It wasn't Venice, but it was a lovely evening just the same… and with what we saved on airfare to Europe, we enjoyed a lovely dinner after the ride. (With enough left over to build my own gondola!)