In Search of Appetizers
By Shawn Payment
Organizing a messabout can be quite an undertaking. Agreeing on a time, day, location, where to go, what to do, who to tell, how to tell them, etc., can all be a lot of fuss. But then again, sometimes it's no trouble at all. As proof in point, I cite our recent messabout held last weekend on San Diego's Mission Bay.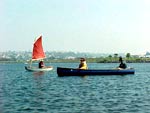 Our original plan had been for a group of paddlers to gather at a quiet salt marsh on the Del Mar coastline. We would paddle the placid inlets, look at the birds and other wildlife, and then perhaps enjoy a little nosh on the beach. Unfortunately, the water level at our intended site dropped about six feet the week before our event because the city dredged the sandbar at the mouth of the lagoon. What had been an idyllic water wonderland had become a damp, muddy puddle overnight.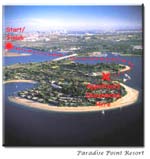 Undaunted, and with a quick e-mail to all, we shifted our locale to San Diego's Mission Bay. Unlike the quiet seclusion of the salt marsh, Mission Bay is a chaotic water park of amusements occupied by water-skiers, personal watercraft, sailors, rowers and every other form of waterborne craft. Our hastily assembled "plan" was to launch from a relatively quiet south shore launch point near SeaWorld and then paddle across the bay to a shore side establishment known as the Barefoot Bar and Grill at the Paradise Point Resort.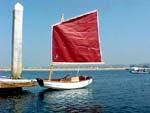 That Saturday morning, I loaded my trusty mouseboat "Dustspeck" on the roof rack and set out for Mission Bay. As I arrived, I could see our little group already forming. John Canning and his wife were boarding his guideboat canoe while his daughter and granddaughter were ably paddling about in an inflatable kayak. Frank Underwood had his newly constructed Chesapeake Light Craft Eastport Pram bobbing playfully at the end of the dock. Joe Millard's Wee Lassie canoe was waiting patiently to be launched.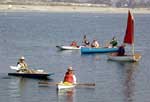 Within about ten minutes of my arrival, all of the boats were launched and we paddled into position for a group photo. Cheese! The formalities of the event behind us, we set out smartly for our destination. Joe's Wee Lassie slipped easily into the lead position, and I paddled furiously to keep up in the squat but capable mouseboat. The canoe and kayak fell in behind us while poor Frank tacked furiously back and forth in the narrow channel, working his way upwind. About the same time, an amphibious tour bus came crashing down the ramp into the bay. As it motored past, I'm certain I saw several of the tourists staring enviously at Dustspeck. I gave them a wave and paddled on.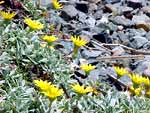 To our left was SeaWorld, home of Shamu the Whale. It's not much to look at from sea with the exception of a small penguin enclosure that faces onto the bay. To our right was Fiesta Island—a glorified landfill covered with sand and the occasional home to San Diego's World Famous Over the Line Tournament. It was upwind all the way for 2-3 miles before Joe and I arrived at the resort. I tied Dustspeck to a dock and Joe tucked his tiny canoe under a bush along the shore.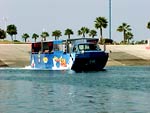 Before too very long, the kayak arrived, followed sometime thereafter by the guideboat now sporting a lanteen sail. After exiting the narrow part of the channel, John and his wife had put into shore and raised sail with the thought of saving themselves the paddle on the second half of the upwind leg. However, they soon discovered that the effort of paddling would be replaced by several extra upwind tacks to reach the resort.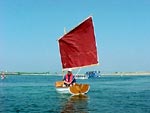 By the time Frank's little Eastport Pram finally found its way to the resort harbor, the rest of us were already enjoying drinks, nachos and quesadilla appetizers. Other boatless bums soon appeared to join in the fun. Although the journey had been far from arduous, it felt good to reward ourselves just the same.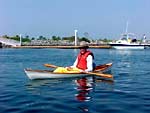 Revived by our refreshments, we felt ready to set course for home. Once again, Joe and I set out in the lead, but with the wind at his back, the Wee Lassie effortlessly eased far ahead of me through the easy seas. Just as quickly, Frank's pram came steaming down on me from behind on a broad reach. Just as he was about to turn downwind and enjoy an easy sail for home, his mast step popped loose at the base, forcing him to turn upwind and strike sail. The poor fellow had worked so hard to get upwind, and now he had to take up oars just to get home. Fortunately, the little pram appeared to row just as smartly as it sailed, and with the wind working with him this time, Frank had little trouble coasting home.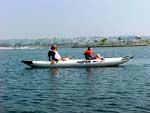 All told, our casual little event taxed about 4 hours of our time from start to finish, and a good time was had by all. All of the planning and preparation, including the last minute rescheduling, amounted to about 30 minutes. I suppose that the only thing easier than organizing this messabout would be to have not tried at all… and what fun would that have been?