Evolution of a hobby – initial efforts at boatbuilding
Or
Could this be becoming an obsession?
by Dave Schau
Boat #1 – beauty is in the eye of the beholder

After reading and surfing and ordering plans and more reading and surfing and corresponding with some experienced boat builders I finally decided it was time to try my hand at boatbuilding back in the spring of 2002. I decided that a nice 12 foot Pirogue would be a good project to start with.
I ordered several sets of plans from different web sites. Some were much better than others. I took design elements from many and started construction. I wanted to eventually work my way up to stitch-and-glue construction, but not right off the bat, so I decided to use screws, chine logs and good old Gorilla Glue.
The first boat layout and construction went okay, but as you can see from the results the boat had what one polite and much more experienced builder called "interesting lines".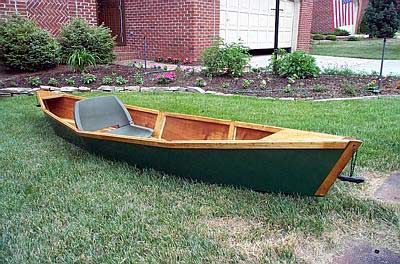 The hull came out quite angular – I guess that would be good for angling? Well, maybe not…..
Here's another shot of it from another "angle"…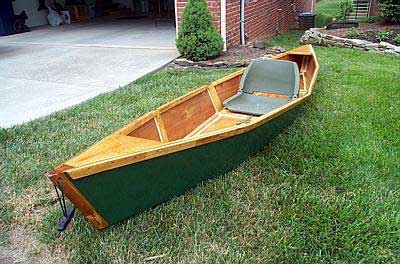 Okay, so it wasn't all that sleek, but the finish was very nice, it didn't leak (or sink) and the 14 year old boy I gave it to paddled around all summer long on the pond on his farm. That alone was incentive enough to keep going. I know I would have loved to have a boat like this when I was a kid.
A few things I wanted to improve on for the next project were:
Obviously those lines – a nice smooth hull would be the goal

Slightly lighter weight – Boat #1 had ¼ plywood sides and decks, 11/16 plywood flooring – total weight was probably 60 pounds or more, a little heavier than I wanted

A more comfortable seat!! That one is functional, but no padding – after paddling for several hours one day I decided to go for something more comfortable

Join the hull panels with scarf joints, not butt them together with a rib like this project
Boat #2 – quite an improvement (thank goodness)

Keeping all the improvement goals in mind for the next project, I pieced together enough ¼ plywood to make 12 foot hull sides – using scarf joints. I wish I could find a picture of them – they may have been the worlds ugliest scarf joints, however they held together – somewhat (more on that later). Did I mention that one half of each side of the hull panels was Birch plywood and the other half Oak? I was using up whatever wood was left in the shop (formerly a garage, but now a boat building shop!!) The bottom was again made from 11/16 A/B plywood – really nice stuff (used for soffets or something), but still a bit too heavy.
Construction went smoother this time. Have I mentioned how much I love sanding? The lines of the boat were much more pleasing to the eye also. I made the bottom a bit wider on this boat – 28 inches (boat #1 was 24) and it was much more stable on the water. It came out pretty good I think – what do you think?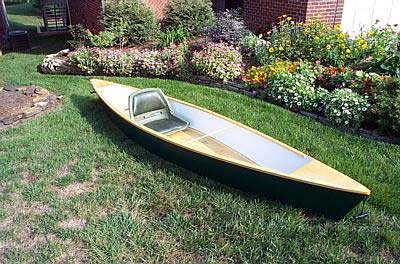 No ribs this time – but I used spreaders to keep the hull flex to a minimum. These small spreaders had to be replaced – too many people were trying to pick the boat up by them, so I replaced them with nice solid oak 1x2's. (I should have got a picture of that)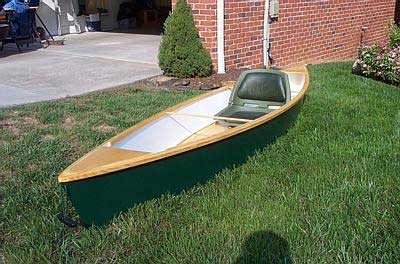 So, boat #2 came out much better. It paddled and tracked great. It's a really nice boat. I actually did some fishing from it also.
I made some of the improvements I had hoped for:
However, it was still a bit heavier than I had hoped for, and the scarf joints didn't hold as well as they should have. I ended up sanding (did I mention how much I like sanding?) them down on the outside of the hull and sealing them with epoxy and fiberglass tape, then fairing that down with auto body filler. The hull came out nice and smooth – nothing noticeable on the scarf joints at all.
I built this boat in the Fall of 2002 and kept it until Spring 2003 when I refinished it, cleaned it up and actually sold it!! Yes – an actual sale on my second project. Okay, so I sold it for less than it cost to build, but it was for a very good cause, a Church rummage sale – plus I needed the room in my shop to build the next project.
Boat #3 – the $12 boat

I saw this boat on Duckworks and in the 2002 project listing $12 boat and decided this would be my next project. I was looking for a boat I could use a trolling motor on (eBay winnings), tote around in the back of my truck easily and fish from. After seeing the article on Duckworks I wrote to the builder and asked him in which month's issue did this article run – he wrote back: Popular Science, March 1966 - and I was off to the library to get a copy of the plans. Luckily they had the issue – and good old eBay once again, I found the magazine and got it and a bunch more from 1966 for $8.
Construction was pretty simple on this boat – not as much sanding either.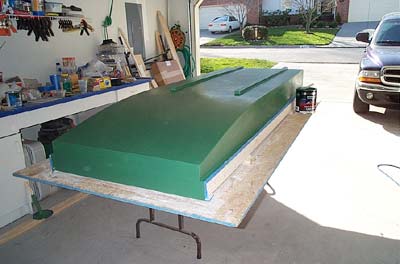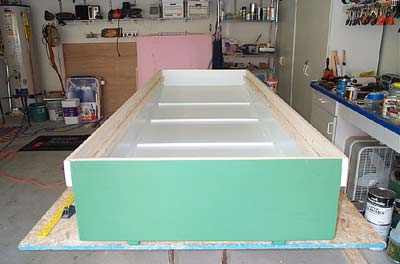 I put some additional features into this boat:
Removable wheels to roll it to and from the water

removable seats to store the boat upside down: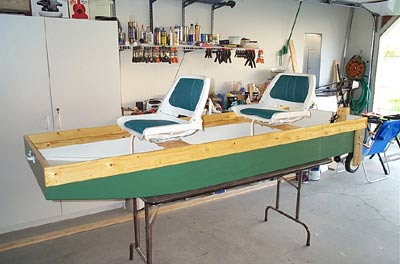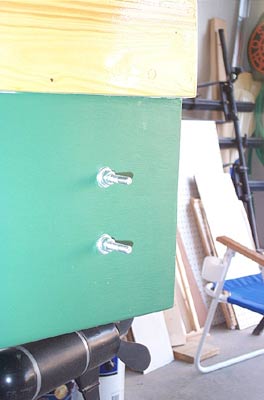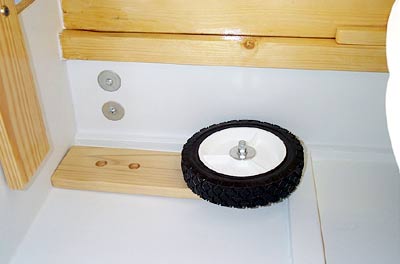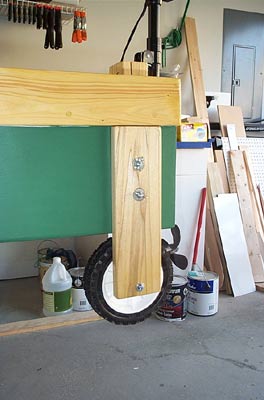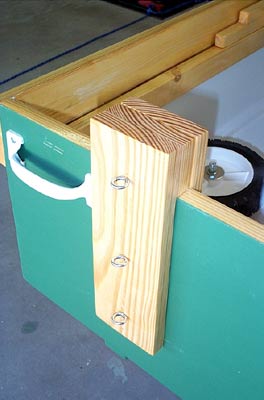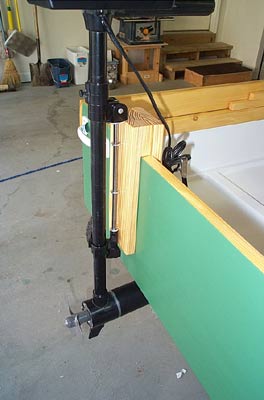 Okay – it didn't work all that great, but it wasn't bad either, I did end up using a standard transom mount trolling motor on the boat however.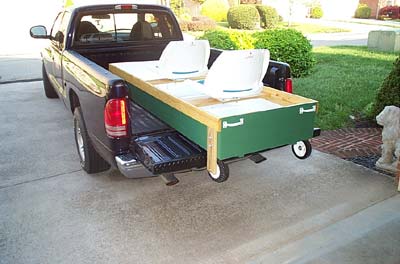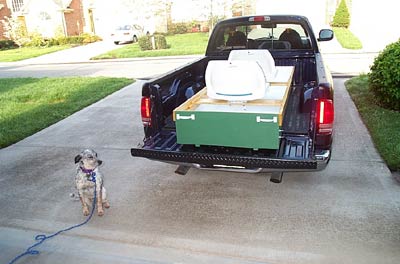 Overall, boat #3 was quite a success. Easy to tote to and from the old fishing hole, very stable, zipped right along with a trolling motor, and paddled quite well with a kayak paddle also.
Some things to note about this boat:
All ¼ inch plywood construction

Gorilla Glue used everywhere – that stuff works great – no leaks!!

This boat is definitely NOT a 2 person boat in my opinion – one man one dog is about all it will hold safely I think. I weigh about 165, Lucky goes about 45 pounds, so I wouldn't load too much more into a boat of this design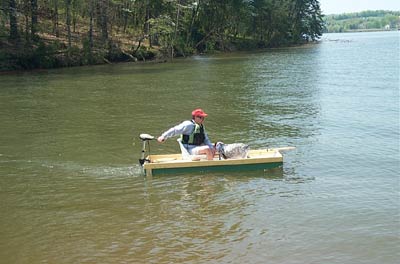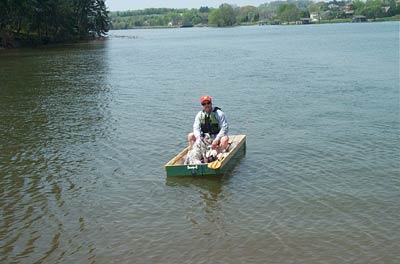 (Does that life jacket make me look fat?)
Boat #3 was given away to a good home, making room for boat #4, which is under construction now. Another 12 foot Pirogue, made from all ¼ plywood and using stitch-and-glue construction. The goal is to get the final weight down less than 40 pounds and to get better overall results.
Results to be posted soon!!