Seayanika was nothing but a bare hull, sitting across the street from our house in Vista, California. She looked more like Noah's renowned Ark lost on a hilltop, than a vessel capable of transporting us around the world.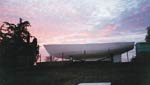 We'd been in the market for a used sailboat in the 40-plus foot range to overhaul and take around the world on an eight to ten year adventure. But every boat we'd looked at was either out of our price range or 'not quite right'. One thing we knew we didn't want was a new boat with an astronomical monthly payment. Then on the fateful day, we saw an ad in one of the local boating weeklies advertising a bare hull with loads of parts, at a fraction of their original cost. My husband Erik was intrigued, I was horrified. He couldn't seriously be considering building our yacht practically from scratch in the three years left before our departure! Oh, but yes, he was. The lure of designing, fabricating, sanding, improving and improvising was just too heady for my general contractor husband, so off we went to take a look at this 1974 Cal 46 factory-built hull. She was sound, she was fair, she was a bargain -- and in no time at all, she was ours.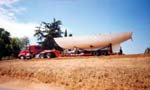 The professional and friendly experts at San Diego Boat Movers that helped us relocate her, swore she made it up to 55 mph on her freeway jaunt from Costa Mesa to Vista. I'm pretty sure that will be her top speed, ever.
Her name came about in the usual way. What were we going to call this huge hunk of fiberglass perfectly framed in each of our front windows? We tossed out all the philosophical and rhetorical possibilities and settled on the more apropos Seayanika, -- 'Sea ya', as in goodbye with a nautical twist, and 'Nika', the name of our 18 year old daughter, who would not be accompanying us on our voyage.
Before his recent retirement, Erik was a general contractor building upper-market custom homes, although he hardly new to the marine environment. Aside from being co-owner of Vader Marine, he has built two smaller vessels, has a registered patent for a fishing lure holder called the 'Lurack', and has manufactured quality teak tables and tackle centers for sportfishing yachts. Even though I can't make any similar claims, I do have the traveling experience as I have previously been around the world twice and am a freelance translator in six languages.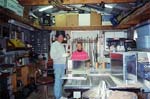 Well, a year came and went while Erik finished up his house building obligations. Meanwhile, across the street Seayanika perched, a constant reminder of work to be done. Erik plotted, pondered, discarded and designed, in his head and on paper, the ideal cruising boat for our needs. He even made a detailed 1/16th scale model of Seayanika, which he sailed in our backyard swimming pool on lazy afternoons. Then on one glorious morning Erik sat up in bed and said, "I'm officially retired now, so I'm going across the street to work on the boat".
Erik already had every tool, toy and construction implement known to man, including power saws, drills, routers, planers, compressors -- and battery-powered backups for most of them. He also owns his own bobcat tractor, which I must admit came in handy when the lot needed grading to accommodate the boat. To complete the boatbuilding arsenal, he purchased a remote power generator, tig welder, airless paint sprayer, a power washer and a chipper/shredder. (What was that for?)
It's amazing what can be accomplished in such a short time when the will and desire -- not to mention the tools -- are in abundant supply. After less than two and a half years, Seayanika is nearing completion.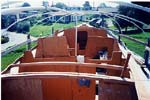 During the first year Erik began by dividing up the interior with the bulkheads. This was a crucial step, obviously for a couple of reasons. First, this hull had been stored for over 25 years without the benefit of support. During that time, the designed 12.5-foot beam expanded to 13-feet. We needed to stiffen up the hull. And, of course, the placement of the bulkheads was a major consideration for hull integrity and interior layout. The preliminary installation of the cabin sole, which was his next project, made life much easier. The angled surfaces inside a bare hull are not an ideal platform on which to work. With his new tig welder, he fabricated an aluminum grid structure for the salon floor and build all the fuel tanks. Rough plumbing was installed in the bilges including the many bilge pumps he wanted. He cut a hole in the hull (yikes!) and installed a tunnel for the bow thruster tube and last but not least he constructed the entire deck with marine plywood and fiberglass.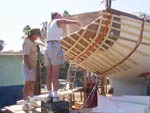 Year two began by faring the deck which was a much longer process than it sounds. How many hours/days/weeks did I spent up on the scaffolding mixing the epoxy with filler while Erik patiently applied it, sanded it away and applied some more? In February we had a fun-filled day with a hired crane, dropping the engine and generator in the engine room. Then Erik made bulwarks out of 12-foot lengths of teak. First he connected the lengths with scarf joints, then bent them to follow the curves, bolted them and plugged the bolt holes with teak plugs. Teak decks were the next big project. Erik and I disagreed about installing them, he was for it, I was against it. He won and I'm glad, because although it was time-consuming and expensive, they turned out beautifully. During this time, we also installed all the windows, portlights and hatches, and wired the electrical panels. One interesting project was the modification of the transom. Erik felt that the Cal 46 hull would benefit from a sugar-scoop configuration and would be more user-friendly for boarding from the water. Although it seemed like a big project, it only took about a week to put the structure in.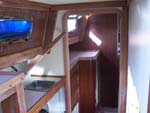 Now, during these last nine months of the construction process, we have been working on the interior furniture. Room-by-room, starting at each end of Seayanika, Erik is working towards the center. Although the furniture pieces themselves are fabricated rather quickly, it's the trim, plugging, sanding & varnishing that is taking the most time. I decided to do the upholstery myself, and since I have no experience or knowledge of upholstery, I enrolled in a class at the local community college. In less than four weeks I have already produced the first four cushions! Okay, so I've got another 15 to go, but hopefully the process will get a little faster. All the mahogany veneer and Formica has been installed where applicable, and the only other surfaces to be covered are the countertops in the heads and galley, which will be Corian. We still have following jobs ahead of us: install the electrical and mechanical systems, fabricate and finish the main salon components, add the steps to the transom, install the rudder and drive shaft and paint the hull. It's quite a list!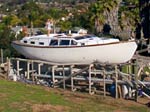 Our aim is to launch Seayanika this June. We are racing against the clock a bit to make this schedule, but setting a tight window of time helps keep us focused. 'Seayanika is a BIG boat', is Erik's mantra each evening as he returns across the street for dinner each evening. At 49-feet in length (after the hull modifications), she is turning out more beautiful than we had hoped and more work than we expected. But we have no complaints. The sense of pride and accomplishment we feel after a hard day of labor, or after giving someone a tour, makes all the toil worthwhile. If you have the desire, time, finances, skills and commitment (and don't forget the tools!) to build your own boat…go for it! We highly recommend the experience.
Katriana Vader